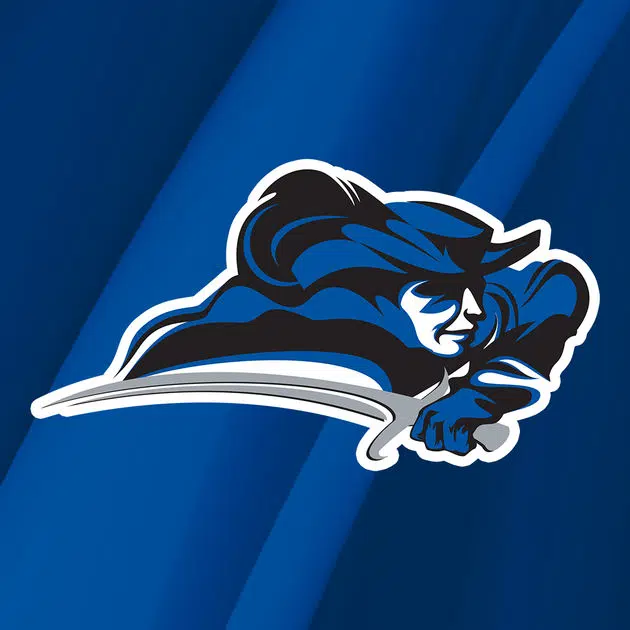 INDIANAPOLIS, Ind. – Cagen Wallace, Trent Johnson, Derrick Smallwood and Raynel Brown all took home first-place finishes at the Indiana Little States Open on Saturday. In total eight Blue Raiders placed inside the top eight at the open.
Wallace went 4-0 on the day after receiving a first round bye to take home first place in the 125-pound class. In his first match he pinned Joshua Stephenson of Manchester via a pin in 4:08. Wallace then picked up a 17-6 major decision victory over unattached Tobario Mendez and a close 11-9 decision over Christopher Sharp of Marian (Ind.) in a semifinal matchup. The freshman from Monticello, Kentucky capped off his day with a commanding 19-7 major decision victory in the championship bout against Nick Brady of Indianapolis (Ind.).
Jacob Dodd also wrestled in the 125-pound weight class where he wrestled his way to a seventh place finish. After falling to the consolation bracket in his first match of the day, Dodd managed to pin Billy Gordy of Midway (Ky.) in 2:36 and then defeated Mendez on a 9-4 decision. He would drop to the seventh place bout when he was pinned by Austin Plumlee of Cumberland (Tenn.). Dodd ended his day with a pin over Sunny Nier of Wabash, doing so in the first period in just 1:04.
Johnson was the second Blue Raider to take home a first place finish after he was able to record a perfect 4-0 record for the tournament in the 141-pound weight class. Johnson opened his day with a pin against Sam Russell of Wabash in 1:14 and then tacked on a dominating 18-3 technical fall win over Marcus Jean-Baptist of Wheeling Jesuit. In the semifinals he won on a 5-2 decision over Owen Doster (NCAA DIII No. 8 at 141) who is a two time DIII All-American. The freshman from Vine Grove, Kentucky then defeated Riley Lomenick on a pin in 2:56 to claim first place.
Smallwood (No. 9 at 157 NAIA) battled his way to a 4-0 record on the day to take first place in the 157-pound weight class. The freshman from Vine Grove, Kentucky opened his day with back-to-back pins. The first came against Cumberland's (Tenn.) Joshua Teaster in 5:42 and he then pinned Clay Jones of Indianapolis in 6:00. Next he added a 16-6 major decision against Alex Barr of Wabash. In his championship matchup he took down Mason Gaines of Indiana Tech with his third pin of the day, this one in 6:56.
Mark Taijeron turned in a third place finish in the 157-pound weight class as he started his day with a 15-8 decision over Dallas Miles of Cumberland but fell to the consolation bracket when he lost his next bout. Taijeron then managed to win three straight matches to finish his day. He won a 8-2 decision over Anthony Mosconi of Marian, pinned Blake Miller of Wheeling Jesuit in 2:56 and then took down Alex Barr on a 5-2 decision in the consolation semifinals. He would then take third place when his opponent Jon Watkins wasn't allowed to compete in the third place match due to a rule limiting wrestlers to only six matches in a day.
Cole Overman took fourth place in the 174-pound weight class and won his first match of the day on a tight 8-7 decision over unattached Carlos Gomez but fell to the consolation bracket when he lost on a 4-0 decision to Marian's Jack Servies (No. 14 at 174 NAIA). He then pinned Marian's Matt Burns in 1:37 and added a 4-1 decision over Marian's Sam Osho in his next match. Wrestling his fourth straight opponent from Marian Overman defeated Cameron Simmons (No. 16 at 174 NAIA) via a 12-2 major decision. He then fell to Servies for the second time on the day, this time on a 7-4 decision in the third place match.
Avery Buckman turned in a fifth place finish at 197-pounds after opening his day with back-to-back pins, the first coming over Marian's David Delph in 2:10 and the second come against Jesse Guzman of Defiance in 1:00. He then added a close 3-2 decision win over Duane Deerwester. Buckman then dropped back-to-back matches to find himself in the fifth place bout where he won on a medical forfeit over Dylan Hinton.
Brown recorded Lindsey Wilson's fourth first place finish of the day as he was wrestling in his first competition of the season at heavyweight. Brown opened his day with a pin over Gavin Hunt of Midway in 3:53. He then picked up an 8-4 decision over Devan Uzelak of Wheeling Jesuit. In the semifinals, Brown managed to pull out a close 3-2 decision over Max Bishop of Wabash. The junior from Morganfield, Kentucky would cap off his day with a pin over Wade Ripple of Wabash in 1:59 to claim the heavyweight title.
The Blue Raiders are back in action on Thursday when they travel to Louisville, Kentucky to take on Bellarmine in a dual match.